Duration
6 1 hr. Sessions
$ 145.00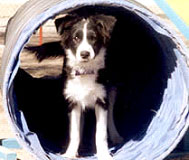 This class is held indoors ~ Take advantage of your puppy's natural curiosity and abundant energy to introduce him or her to the fun sport of agility! This 6-week class will focus on some fundamentals of agility using puppy games that will utilize targeting, wobble boards, focus, and basic obedience skills. Puppies will be introduced to sights, sounds, and techniques that are helpful toward building confidence without stress on baby joints. Clickers, treats, and toys will be used for focus motivators. Class will help build your puppy's confidence and strengthen your bond and partnership. The goal is to create a dog that is engaged, focused and motivated as well as one that is confident, well socialized, and eager to offer behaviors and learn.
Some goals of the class include:
Reliable & fast recalls (so your pup comes when called the first time)
Improved sit and down stays for better impulse control
Building drive & focused attention on you, the owner, as well as on the agility obstacle.
Toy motivation and play to increase focus on you and build excitement and desire for the game of agility
Surface desensitization (things that move, make noise and are elevated; hind end awareness) to create more overall confidence in your puppy.
Introduction to some agility equipment (focusing on familiarization and confidence building initially then shifting to obstacle performance)
Have fun and burn energy!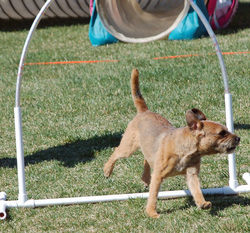 This class is designed for puppies 5 months to around 1 year of age. The class meets one day a week for approximately
one hour. Classes are limited to 7 puppies. Dogs will need, buckle collar, harness, or Gentle Leader (no choke or prong collars), a 6 ft. leash (nylon or leather; non-retractable), a favorite tug toy, and lots of tiny yummy treats (don't feed too much dinner before class)! A crate is recommended. Handlers should wear sneakers.
The class will focus on building a positive, focused, working relationship with your puppy using play, toys, and lots of treats.
Prerequisite for Puppy Agility Fun!
Graduation from Ideal Puppy class (or similar in another school) or obedience class such as Focus Foundation; or approval from instructor or Training Director.