Nose Work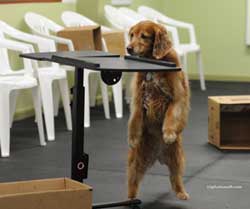 Nose Work offers a chance for regular dogs and dog owners to get into scent work in a low-key, fun, positive-only manner—the way Rally-O is a relaxed version of obedience competition. Basically, if your dog has a nose, he can play this sport.
Nose work involves training your dog to search for three scents: Birch, anise, and clove. But before you get that far, you begin with easy, motivating- level searches for a favorite toy or treat. As your dog becomes proficient, the search challenges are increased.Chloe searching for the scent Aside from advancing levels of classes and actual competitions, this is a sport you can easily play in your yard, or anywhere.
Defying its newness, this sport is spreading fast, with classes, workshops, and practice groups mushrooming around the country. The sport is the brainchild of three Southern California dog trainers all experienced in detection work, including search and rescue.
Who can benefit?
Nose work is excellent mental stimulation for dogs and fun for you, too, because it's designed to be easy to get started on. Unlike agility or flyball, it isn't physically strenuous. Nose Work is a great activity for shy or reactive dogs because each dog works on his own with his handler, even in a group class. And it's perfect for all ages of dogs and even for dogs with physical disabilities such as blindness.
Click below to get more information about Nose Work classes at Lucky Dog, including class dates, and the differences between Nose Work Games, Nose Work: Into to Odor and Advanced Nose Work. Click here now and get in on the fun!
For more information about the sport, click here.
For competition info, visit the National Canine Scent Work Association.