K9 Nose Work® Class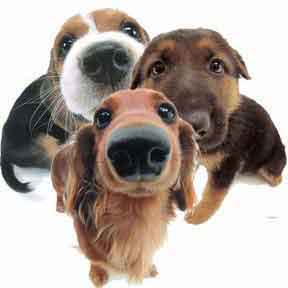 Dogs have an amazing sense of smell and a natural desire to hunt. The activity and sport of K9 Nose Work® is designed to develop your dog's natural scenting abilities by using their desire to hunt and their love of toys, food, and exercise. It's a great way for your dog to have fun, build confidence, and burn lots of mental and physical energy.
Why enroll your dog in a Nose Work Class?
Nose Work offers a chance for regular dogs and dog owners to get into scent work in a low-key, fun, positive-only activity. Basically, if your dog has a nose, he/she can play this sport. Nose work is excellent mental stimulation for dogs and helps to build the relationship between handler and dog. Unlike agility or flyball, it isn't physically strenuous. It's perfect for all ages of dogs and even for dogs with physical disabilities such as blindness. We have consistently found that both dogs and owners find Nose Work Class to be extremely fun!
This is a also a great class for reactive dogs, those who don't typically do well in a traditional obedience class because of the close proximity to other dogs. Each Nose Work search is done without any other dogs present. As long as the dog isn't aggressive toward humans (and not a resource guarder), he's probably a good candidate for K9 Nose Work.
What to expect in K9 Nose Work® Class?
Nose work involves training your dog to search for three scents: Birch, anise, and clove. But before you get that far, you begin with easy, motivating- level searches for a favorite toy or treat. As your dog becomes proficient, the search challenges are increased. Beyond advanced levels of classes and actual competitions, this is a sport you can easily play in your yard, or anywhere. Defying its newness, this sport is spreading fast, with classes, workshops, and practice groups mushrooming around the country.
Each class is a mixed group of different levels of experience, allowing everyone to learn from each other and minimizing wait time for classes. Every search is personalized to the skill level of your dog so your dog always receives the challenges he or she is ready for. For competition info, visit the National Canine Scent Work Association.
How to Sign Up for Nose Work Class
If you're interested in having your dog join us for a Nose Work Class, please contact us at 561-427-6700 or send us an email at info@luckydogtrainingclub.com. Our sales staff will be happy to talk through any additional questions and get you signed up!