Puppy Training & Socialization Class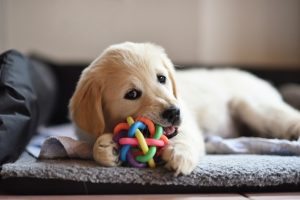 Start your puppy on the right paw with this class where they will learn basic commands, potty training tips, techniques for puppy problem solving, and great socialization skills.
Class Eligibility: This class is for puppies from 8-16 weeks old.
Class Duration: 5 Weeks (one class per week, one hour each)
Why should all puppies go to school?
Before five months of age much of your puppy's personality has already been determined, so it is very important to begin a class prior to this age. Early puppyhood is a critical time for socialization and learning as this period will set the stage for the rest of your puppy's life. This is the ideal time to show your puppy how to confidently relate to other puppies, unfamiliar people, and strange sights, sounds, and events. The right training at this age will help them learn to adapt to the world around them and feel at ease. Here veterinary behaviorist, Dr. Lisa Radosta, talks about the importance of proper puppy socialization.
What will your Puppy learn in class?
There are no more than 8 puppy participants per instructor in each session. During the five-week program we cover the following:
Basic obedience to get your pup focused and following your direction using positive reinforcement and rewards (we never use scary or harmful punishment!).
Problem solving to make short work of housetraining, and to stop your puppy from using you– and your furniture– as a chew toy.
Problem prevention to ensure your pup grows into an adult dog you can truly enjoy– friendly, relaxed, well behaved, and fun.
Off-leash puppy play to teach critical dog-dog socialization and communication skills.
Important skills such as bite inhibition (developing a soft mouth). Your pup will learn to control biting by playing with dogs his age.
Appropriate games to play with your puppy that are both fun and teach your puppy self control.
How to Sign Up for Puppy Training
If you're interested in having your puppy join us for the class, please contact us at 561-427-6700 or send us an email at info@luckydogtrainingclub.com. Our sales staff will be happy to talk through any additional questions and get you signed up!
Read what others have to say about our Puppy Classes:
"We learned great socialization and basic skills. I liked everything about the course! The instructors were great and the handouts were very helpful."
"Just want to let you know about the wonderful experience my family had with our instructor in Puppy Class. She always greeted us with a smile! She was helpful, positive and enthusiastic throughout the class. We all learned so much and had lots of fun at the same time….Many thanks to your wonderful instructor who is a huge asset to your Lucky Dog Sports Club!!"
"I loved the playtime for puppies and positive reinforcement techniques. I give the class a 10 out of 10."
"The instructors were excellent and lots of fun. I especially liked personally learning how to teach my dog different obedience skills. I can't wait to take another class!"
"I most liked being shown how to guide my puppy into behaviors. She is listening so much better! Thanks for a great course. We will return for more."