Tricks and Games Class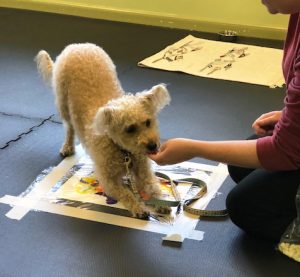 Want to spend time with your dog having lots of fun? Looking for ideas and activities? Then this class is for you! In this class we will teach your dog to shake, roll over, bow, spin, and many more tricks and skills. We will also play games that you can use with your dog on those rainy days.
Class Eligibility: Your dog must be friendly and be under control around other dogs.
Class Duration: 5 Weeks (one class per week, one hour each)
Why enroll your dog in a Tricks and Games Class?
If you want to spend time with your dog having lots of fun and are looking for ideas and activities, then this class is for you! Just a couple reasons to take Tricks and Games…
Have tail-wagging fun!
Build skills, teamwork and eager performance so that you get better listening skills from your dog everyday.
Burn some energy so that your dog gets into less trouble at home; a tired and satisfied dog is a calmer dog!
Improve your dog's attention and focus so they can become better behaved.
Learn some new skills that you can do and play at home whether you have a high energy dog or a couch potato.
Games motivate both dogs and owners to interact and create fun. When you share fun, your dog wants to pay attention to you.
Learn at least 10 tricks needed to test for your AKC Novice Trick Dog title! (Note: If you have your CGC you only need 5!)
Beat the heat! This class is held indoors.
What to expect in class?
In this class you and your dog will play games and learn fun, easy skills while doing activities such as sniffing games (find the treat), learning different tricks, creating an art masterpiece (that your dog makes without getting messy!), doggie dancing (no rhythm required!), dog agility (for the couch potato and wild child alike), and so much more!
The instructor will teach different skills and games on different weeks, so every class is a little different from the last. Tricks and Games is perfect for dogs of all ages and abilities.
How to Sign Up for Ticks and Games Class
If you're interested in having your dog join us for a Tricks and Games Class, please contact us at 561-427-6700 or send us an email at info@luckydogtrainingclub.com. Our sales staff will be happy to talk through any additional questions and get you signed up!