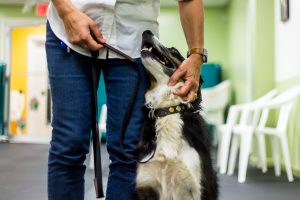 At Lucky Dog, we proudly offer science-based, professional, positive reinforcement training to help you create the well-mannered, attentive, and happy dog you want.
We offer group classes (scroll down for currently scheduled classes) and private lessons (including virtual consultations).
We are committed to force-free, dog-friendly training using sound scientific principles based on how dogs think and learn. All of our techniques revolve around providing consistent, well-timed reinforcement for correct behavior, which creates a dog that loves to work with you and learns quickly. No harsh physical correction methods or force are ever used or allowed. (We train with our brain, not pain.)
Force-free means our training approach will never involve doing anything that will hurt or scare your dog or cause discomfort to train or change behavior.
Positive training achieves excellent results, as it is based on how dogs think and learn. You'll learn in small, easy steps to set both you and your dog up to succeed.
Working with your dog should be fun and full of joy! We encourage play and treats as important rewards for your dog. This builds a great relationship with you which makes living with your dog so easy and fun!
Currently Scheduled Classes. Grab your spot!