Canine Good Citizen Prep Class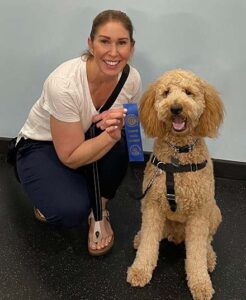 Have your dog earn their Canine Good Citizen title! Let your dog set the standard for obedience and behavior by the AKC. Dogs and owners must pass 10 test items proving that they are a responsible and well-mannered team.
"The dog who passes this test has an advanced degree in good manners" says AKC CGC Director Mary Burch.
The Good Canine Citizen Certification is not only a testament to what an awesome, well behaved dog you have, it also dubs YOU as a knowledgeable and dedicated handler. Is your Canine up to the challenge? Are YOU?
Class Eligibility: Dogs that are 5 months or older and both dog and people friendly (no aggressive barking, lunging, or growling).
Class Duration: 5 Weeks (one class per week, one hour each)
What to expect in Canine Good Citizen Prep Class?
In this class you will learn and practice the 10 necessary skills needed to be certified by a Good Canine Citizen Evaluator. These 10 items include politely greeting a stranger, walking nicely on a loose leash, and obeying the commands sit, down, stay, and come. You will have hands on training and five weeks of practice to gear up for the evaluation and certification.
This class prepares you to get Certified and registered with the AKC as a Good Canine Citizen!
Note that we want to provide a good environment in which people and dogs can learn comfortably and feel safe. This is NOT an appropriate class for reactive dogs that bark, growl or lunge at other dogs or people. Your dog will be better served in the Reactive Dog class or in a private lesson.
How to Sign Up for Canine Good Citizen Prep Class
If you're interested in having your dog join us for this class, please contact us at 561-427-6700 or send us an email at info@luckydogtrainingclub.com. Our sales staff will be happy to talk through any additional questions and get you signed up!