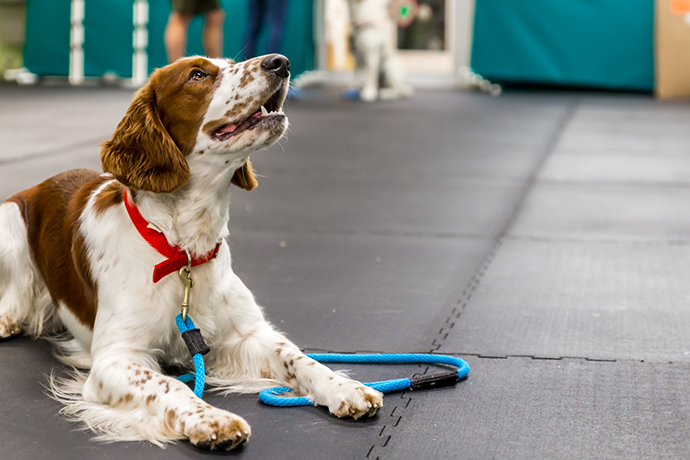 Age
~5 months of age and up
Duration
1 hr per week / 6 Weeks
Category
Obedience / Manners
$ 185.00
NOTE about the upcoming scheduled class: it will be partially taught via Zoom and the rest will be in-person at Lucky Dog.
SCHEDULE:
6/3- Do the self-paced video lessons at home. You will receive a link.
6/10- Zoom lesson at the scheduled class time and day. Start building impulse control, focus, and attention. This will help you be successful for the following four weeks of in-person classes.
6/17 to 7/1 – Classes meet at Lucky Dog. All students must attend wearing a face mask until it is deemed safe to do otherwise.
Note: if there is any indication that it will be unsafe to meet in person, classes will resume on Zoom. Everyone's safety is a critical concern.
Many of our classes have successfully been done virtual! We use Zoom (like Facetime or Skype but better). We can see and hear each other. I can watch you as you train your dog and you can watch me demo and hear me coach you.
We have modified the classes to make them work virtually. A benefit of a virtual class is that there are fewer distractions, so very young, easily aroused, or reactive dogs will do well working at home.
If you are worried about the technology, we are offering a free short Zoom tutorial, live whenever you want to give it a try!
Why should you take Focus Foundation?
We want to help make life with your dog easier by allowing you to enjoy a calm and well-behaved companion. Teaching your dog to understand your obedience commands is important but it's relationship-building that really counts. When you build communication skills and a better relationship with your dog, better manners and obedience will easily follow.
Focus Foundation is a 6-week class and is the foundation for all future training and is perfect for improving the behavior of your favorite pooch. We will train or improve basic obedience skills and improve manners. We will work on attention, impulse control, and the ability to work around other dogs as well as people and distractions. We will help you build better motivation and confidence and discuss how to solve some pesky behavior problems.
Focus Foundation : for a better-mannered, more obedient pooch
Tired of your dog not coming when called the first time you ask? Annoyed by a dog who drags you for a walk or doesn't seem to notice when you're talking to him? If your dog's behavior has got you a bit frustrated or embarrassed, or if you just want a little more polite behavior, this class is for you.
Living with an engaged and responsive dog is one of life's greatest pleasures! We can help you enjoy a calmer and better-behaved dog.
Building a Strong Foundation
In this class, your dog will learn to respond to you the first time you ask and you will learn how to change pesky habits like pulling on the leash and jumping up. A well-mannered, polite pooch is fun to live with! This class is also important before starting fun dog sports such as agility.
Here is what you will do in class:
• Improve the manners of your favorite pooch.
• Improve basic obedience skills such as sit, down, stay, go to your mat, and come.
• Solve troublesome problems such as pulling on the leash, not coming when called, and jumping up to greet.
• Use impulse control games to teach leave it and other skills to decrease unwanted behaviors such as pulling toward lizards, squirrels or other dogs while on walks.
• Get better attention and focus so your dog will respond to you the first time, even around distractions.
• Teach your dog to work around other dogs and people, and build drive, motivation, and confidence.
• We will show you how to utilize the power of the clicker to teach skills quickly using positive techniques (see more info below).
• You will learn to reward success, not punish mistakes. This results in a dog that has trust and confidence in you and who is eager to learn.
• In the webinar/video (the first class, which is self-paced at home) we will teach you how to view the world through your dog's eyes, and practice mechanical skills to help improve your training and create quicker success. We will also give you information on how your dog learns which will help with your training in addition to providing understanding about how some behavior problems can be avoided or fixed. You will start on some lessons at home which will better prepare you for the fist class at Lucky Dog.