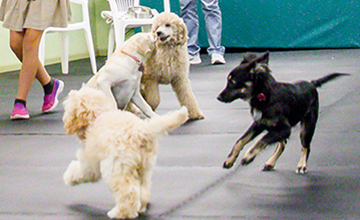 Teacher
Mindy Cox, or Cheryl VanVoorhies
Duration
1 hr per week / 5 Weeks
$ 175.00
Good to know:
The listed fee is for all 5 weeks of class!
Why should all puppies go to school?
By five months of age, much of your puppy's personality has been determined, so it is very important to begin a class prior to this age. Early puppyhood is a critical time for socialization and learning. This time will set the stage for the rest of your puppy's life. This is truly a once-in-a-lifetime chance to show your puppy how to confidently relate to other puppies, unfamiliar people, and strange sights, sounds, and events. Reserve your puppy's spot today in this limited-enrollment class.
How old should your puppy be?
This class is for pups 8-18 weeks of age at the start of class. Worried about finishing your puppy's vaccinations? Don't be. Check out the reasons.
That cute little puppy got you chasing your tail?
Learn all you need to know to survive (and enjoy!) puppyhood, and watch your pup grow into the well-behaved adult companion you look forward to. We will cover:
Skills including basic obedience and manners to get your pup focused and following your direction using positive reinforcement and rewards (we never use scary or harmful punishment!). Now is the time to build that all-important foundation that sets the stage for life.
Problem-solving to make short work of housetraining, and to stop your puppy from using you– and your furniture– as a chew toy.
Problem prevention to ensure your pup grows into an adult dog you can truly enjoy– friendly, relaxed, well behaved, and fun.
Socialization: This is the best time to get your pup used to the world. This is the age when he or she is most open to novel experiences. We will teach you the right way to do this! (Yup, do it incorrectly and your pup may become more sensitized not less.) Socialization is so much more than just playing with other dogs. (But we have that too in our classes at Lucky Dog. So much fun to watch the pups play!)
Survive & thrive!
Off-leash puppy play to teach critical dog-dog socialization and communication skills.

Important skills such as bite inhibition (developing a soft mouth). Your pup will learn to control biting by playing with dogs his age.

Appropriate games to play with your puppy that are both fun and teach your puppy self-control.
This is why all puppies should go to school
(Click the + for more info)