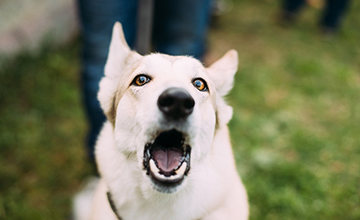 Teacher
Dr. Lisa Radosta/Mindy Cox
Duration
1 online and 5 in-person sessions
Category
Special Interest / Fun & Games
$ 349.00
A reactive dog is anxious or stressed on walks and may barks, lunges, or growls at other dogs, people, or objects such as trucks, while on leash. This dog may be perfectly sweet and loveable with his or her pet parents, but when the stimulus appears, watch out! Suddenly your dog is like Cujo.
Reactivity usually gets worse if not helped with behavior modification techniques.
Or, your dog may be out of control, trying to greet every dog, person, or even squirrel that they see on walks. You may experience, pulling, whining, barking, and not being able to listen to you.
PLEASE READ THIS NOTE
At this time we are not offering this class.
However, we have options to help you change your reactive dog's behavior.
Please head over to the Reactive Dog training page for information on how we can help you.
…………………………………………………………………………………………………………………………………………………………………………………………………………………………
Class info
In this class we will show you how to change your dog's on-leash reactive behavior. You will learn to lower stress (in both you and your dog), build calmness and attention, train alternate behaviors to reactivity and/or over arousal, reinforce the absence of reactivity, and most importantly build your dog's confidence and trust in you to support a safe emotional state which will facilitate behavior change.
We understand that there are many details you need to know in order to make an informed decision about registering for the Reactive Dog class. Please look over this page or contact us for more information.
Follow These Steps to Take This Class…
Register for a Working Spot
FEE: $349.00 per dog for 6-week course (both spouses may attend).
To register, CLICK HERE.
Submit the Behavior Questionnaire
CLICK HERE to fill it out online. After you register for a working spot you will need to return this to us as soon as possible. You may have worked with us before and submitted behavior information in the past. Please fill out this short form anyway.
Submit a video clip
CLICK HERE for instructions on how to submit your video. Please do this as soon as you're registered. The sooner we receive it the better.
To tell if your dog needs to come for a gear check on Day Two, you will be asked to submit a short video of you walking your dog in a safe area on his or her regular equipment so that we can evaluate your dog's equipment needs. We need this video as soon as you register for class so please work on that and get it to us asap. If no equipment change is needed, no appointment is necessary and you can use this time to work at home on the homework lessons we will provide to you. You are also welcome to request a class two appointment to discuss any homework questions you may have after viewing the homework video. Please submit your video(s) to both Dr. Radosta (info@flvetbehavior.com) and myself (woof@luckydogsportsclub.com).
Additional Info:
Class Size: Working spots are limited to 6 dogs per class so don't wait to register. Unlimited auditing spots (observe without your dog; see details below).
Information about registration:
What You Need To Know About the Class