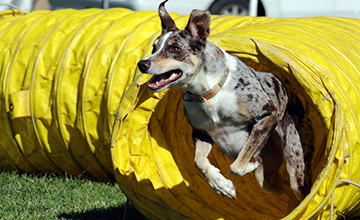 Duration
6 1 hr. sessions
$ 165.00
Participate in one of the most popular and fun dog sports in the canine world!
Intro to Agility is a 6-week class.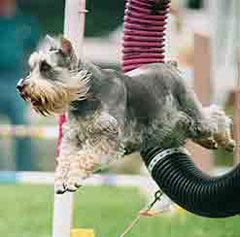 Prerequisites/Skills needed for this class: 
Dog and Handler must have successfully completed Focus Foundation Obedience & Manners or a similar obedience class. Focus Forward Level 2 or a similar obedience class is highly recommended for the best results and most enjoyment and success in this class.
Your dog must be able to sit, lie down, stay, and come when called outdoors and around the distraction of other dogs.
Your dog cannot be reactive towards dogs or people since short portions of this class may be conducted off-leash. (Your dog should be friendly or indifferent towards people and dogs.)
What is Agility? Agility is a fast-paced, super-fun game you play with your dog! In this sport, the handler has a limited amount of time to get their dog to safely navigate a set of obstacles in a predetermined order. The obstacles can include jumps, tunnels, weave poles, A-frame, dogwalk, teeter-totter, and more! The dog must safely complete the obstacles in a specific order and within the time limit.
Success in agility requires proper training, as it is a game of physical skill, control, patience, and, most of all, teamwork between handler and dog. In the upper levels, agility is a race against the clock, but accuracy in all levels is the first requirement.
Introduction to Agility: Dogs will be introduced to many of the obstacles in agility such as jumps, tunnels, contacts, and weaves in a safe and controlled manner to build your dog's confidence and skills. Owners will be taught handling skills and footwork to best communicate with their dog teammate.
The skills needed to successfully negotiate the obstacles and the handling skills will be worked on weekly. Attention, focus, teamwork, and motivation will be practiced as the team builds confidence in an atmosphere that centers on learning skills while having fun. By the end of these classes, the dogs will have a good working knowledge of many of the obstacles and will be building up their confidence.