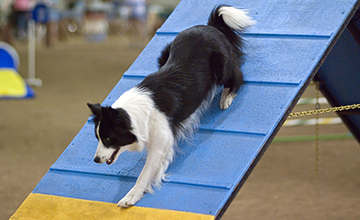 Duration
6 1 hr. sessions
$ 125.00
REGISTRATION: Click here to register for any class.
(And find out if there are any openings.)
Prerequisites/Skills Needed to join this class:
Successful completion of Intermediate Agility or similar class, or at instructor's discretion;
Your dog can independently perform 12 weaves:
Can successfully run a full course of at least 20 obstacles at full height;
Your dog should be able to be penned or crated;
The handler/dog team must be working together as a competent team;
Your dog must be non-reactive towards other dogs or people;

If you are competing in at least the Open level in agility (or at that skill level), this class is designed to challenge you and help you develop or strengthen your proficiency.
You will work on perfecting your different handling skills (when to use them and how to execute them) so that your signals are clear to your dog, which often increases your dog's confidence and build speed on the course.
You will also develop skill on how to analyze the course.
This course will help you to perfect skills that are needed to be successful on courses at the Excellent/Masters level. Ideas and assistance will be given on running these sequences that are more involved than those found at the Intermediate Level.
Anna Strait will be teaching this popular class. She is a talented handler, having put several MACHs on her dog as well as competing at Nationals, and supportive instructor. The class will include Advanced sequences found in Excellent/Masters courses and elements of International level courses.
Class Drop-ins are welcome if space permits: $25.00 per dog.