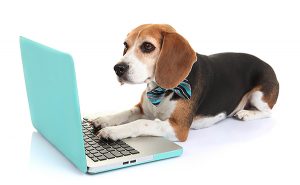 Online Coaching/

Virtual Consults
Let's make real behavior change from the comfort of your home, or wherever  you want to be!
When getting together in person is not possible, we can help solve many of your nagging dog training and behavior issues using a variety of methods, including phone and live video.
A virtual consultation is like homeschooling for your dog. If you can get online and have a webcam (either as part of your computer or as a separate tool) we can help you solve many behavioral challenges you are facing with your dog, or we can help you to build some better manners and skills.
The beauty of tele-training is that you do not  have to be in the same room as your training pro to achieve some remarkable results. You will be in  your home and your professional trainer will be in a different location providing very personalized instruction. You will learn how to teach your dog or change behavior issues by observing methods demonstrated live via computer by your trainer. You will be able to practice with your dog while the trainer observes and coaches you.
We'll walk you through the entire process so don't worry if you're "technically challenged". We make the process painless and enjoyable – we promise!
We will schedule a short session to test the setup and be sure the consultation will be a breeze. This is complimentary. We want everything to go smoothly.
Find out more (click on any section):
Click to read how easy it is to set up a tele-training session using Zoom: