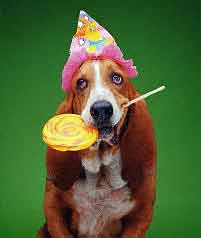 Get a day pass to use our awesome indoor facility to host your next dog seminar, event or party! Ask about a membership day pass.
If you love to party with your dog, Lucky Dog is your hot spot! Fetch a day pass to use the building or outdoor field for your own dog's special occasion, or for your club's seminar or other event. Our 1200 sf training and party room has 1/2″ rubber flooring for good traction and safety for playing dogs. Our outdoor training field (for experienced agility dogs) is fully fenced, and covered in soft grass.
Please contact us for more information about a membership pass and holding your next pooch party at Lucky Dog. (Click here for more information about our facility.)
Some party occasion ideas include:
Puppy Parties
Dog Milestone Parties- birthdays, "weddings", graduation & "Bark Mitzvahs"
Fun, friendly obedience/training games parties,
Howl-oween costume parties, celebrations including Valentine's Day or Christmas,
New puppy shower or doggy adoption (new members of the family deserve a special celebration!
Graduation (from obedience school!) parties
We do not, however, allow the use of the facility for members to give private dog training lessons.
Email or call us for more information!
Hey Dawg! Let's Pawty
Tips for a Fun Event!
Size Matters: Canine guests need a sufficient amount of space and supervision. Lucky Dog has a perfect, safe space for your guests.
Pick of the Litter: Consider the guest list. The key element to a successful human event is to invite a stimulating group of guests but at a canine event, the mix is in the interest of safety. Your party should be limited to dogs with compatible personalities and good manners. Dogs that are already familiar with each other from the dog run, neighborhood or doggy daycare center will be most likely to play politely.
Bone fido Invitation: Every good host knows that the invitation sets the tone for the party. Consider breed stationery to match that of your guest of honor. For a truly special invitation, have a pet photographer take a special picture of you and your beautiful pet. Remember to include the date, time, location, RSVP information, and the words All canine guests must be accompanied by their owners. Remember, invitations should be sent out at least three weeks before the day of the party.
Dog Play: If you are the kind of host who loves to create an unforgettable event, have lots of fun doggie games planned. You may want to consider hiring an obedience instructor who can teach party guests, old and new, some tricks. Easy and safe agility exercises are an especially fun idea. Watching Harry, the Great Dane, barrel through tunnels is just as much fun as watching Sophie, a Toy Poodle, discover her athletic ability on a low hurdle. Be sure that the agility obstacles you use are safe for all participants. This is not the time to be running over a tall A-frame where someone can get hurt or scared.
Chow Hounds: Dogs will enjoy a special doggie birthday cake (and be sure to have lots of goodies for the human guests to enjoy). Liver cupcakes topped with cream cheese and peanut butter icing are a bit hit with the kibble crowd. Do not forget the beverage of choice at these dogged affairs is cool, fresh water.
Pooper Scoop: Have plenty of plastic bags hand for cleaning up do's and don'ts. And if the party is indoors, make sure there are rolls of paper towels and spray cleaner as well.
Treats to Go: Once the party is over, send your guest home with doggy bags. Fill them with yummy, healthful treats and perhaps a toy. After all those snacks, you always want to look after your canine friends.