Rally O
Rally obedience, or "Rally-O"  as it has been termed by enthusiasts, emphasizes fun and excitement for the dog/handler team while providing an interactive approach to obedience. The focus is on teamwork, communication and fun, rather than precision. The exercises involved in the course will help build your skills as a handler and increase your dog's repertoire of behaviors. Praise, encouragement, and continuous communication are permitted in this sport. Rally,  combines elements of obedience, agility, and freestyle. It is more relaxed than precision competitive obedience, focusing instead on attitude and enthusiasm, while the variety of exercises and courses allows you to show off your versatility and teamwork.
What exactly is AKC Rally-O? Click here to watch a short video.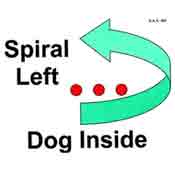 As in agility, courses are designed by the judge and are different in every trial. In a trial, exhibitors receive a course map from the judge and can walk the course without their dogs prior to the start of the class. Judges design their courses by choosing from more than four dozen stations that direct handlers and dogs to perform specific exercises.
A sign at each station gives instructions to the dog-handler team, and each team must execute the station's particular task within two-to-four feet of the sign. Once the judge gives the command "forward," the dog and handler complete the course on their own without further commands from the judge. Handlers may not use treats or toys in the ring, but may do anything else to encourage their dogs at the novice and advanced levels except physically touch them or make corrections with the leash. Verbal praise and encouragement are allowed in all levels, and in the novice through advanced levels handlers may clap their hands and pat their leg for encouragement. In all levels, except Master, additional cues may be given.
Signs instruct teams to go fast or slow, to halt (dog must sit at heel), to make turns and circles, to reverse direction, to do a sit-stay-recall, or to follow other basic obedience exercises.
Click here to watch videos on how to execute all of the signs in Novice, Intermediate and Advanced, Excellent and Master.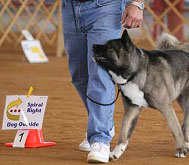 As it does with obedience and agility, AKC offers Rally titles at different levels:
Novice, with on-leash exercises that demonstrate the dog's understanding of basic commands such as sit, stay, down, and come and heel position;
Intermediate, similar to Novice, is also on-leash and adds a few new signs.
Advanced is performed off-leash and includes at least one jump, plus additional signs.
Excellent, a more difficult off-leash course that includes at least one jump and demonstrates more precise skill and coordination between the dog and handler.
Master is a bridge class beween Rally and traditional competition Obedience. this class is off-leash and includes the most advanced signs and skills. In this level only, points are deducted if additional cues are given to the dog.
The Lucky Dog Rally class is a mixed-level class in which signs from different levels will be introduced depending upon the interests and needs or the participants. If the skill of the group is truly varied, courses may be nesxted in order to allow more individualized practice for the teams at different levels.
By the end of the 6-week session, beginner teams should feel comfortable performing a variety of signs and udnerstand the skills required to participate at the novice level in a Rally trial.
The teaching method at Lucky Dog is positive reinforcement. Whether your are interested in competing for Rally titles, or just want to try a new and fun activity with your dog, this is the sport for you!
You are allowed to talk to and praise your dog in the rally ring! Rally is the place to build a relationship with your dog and refine your communication with your four-legged teammate.
Check here to see if there's a Rally class scheduled. Get started with this great sport! (Don't see one? Email us to be placed on a list.)
---
At this time we are offering mixed-skill Rally classes. We combine novice and advanced by offering a choice of signs of different skills at many stations.
Find out more about the Rally class at Lucky Dog.
For this class you will need:
a flat buckle collar or harness;
a 4-ft or 6-ft lead (no flexi leads, please);
a treat bag full of treats (bring lots and lots, more than you think you need; (be sure not to feed more than 25% of your dog dinner!),
a treat pouch;
and comfortable shoes
We will continue to work on and perfect the skills taught in Rally I. This is a class for those who have completed Rally I and are ready to move into the Rally Advanced ring. Performance is encouraged off leash and includes jumps. Satisfactory completion should enable the team to earn an AKC Rally Advanced (RA) title.
Focus Foundation Obedience & Manners class
Learn the basic skills needed to build a better relationship with your family dog or to start competitive dog sports such as agility and rally. This class is the foundation for all future training. It will increase communication and awareness between your dog and you. Some of the skills we will cover include attention, some off leash control, ability to work around other dogs as well as people and distractions, drive and motivation, confidence and basic obedience such as sit, down, stay and come.  The focus of the class is on gaining skills and confidence to create the right relationship to become an effective team. This class is a prerequisite to Intro to Agility as well as a great prelude to any obedience class. This, or graduation from another obedience class, is the prerequisite for Rally.
This class is a prerequisite to Intro to Agility as well as a great prelude to any obedience class.
Obedience Training Classes