Train or Practice at Lucky Dog on Your Schedule whenever there is no scheduled class or event.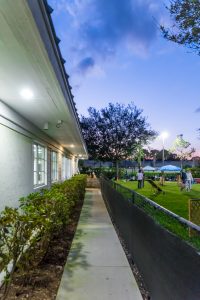 NOTE: A membership is not required to take classes at Lucky Dog. Classes are an additional fee.
Sign up for one of our limited club memberships to Lucky Dog Training Club, one of the premier dog training facilities of its kind in the area.
This is a unique opportunity to train and practice, or just have fun with your dog when it's convenient for you using our top-notch facility! Your Pooch Pass will give you electronic access to the area of your choice.
What are you waiting for? Fetch a Membership Package by clicking the button below!
Please read the Membership Rules by clicking here.
Membership Types:
Agility Membership – This membership permits the use of the outdoor training field. You may use the agility equipment if you've taken an agility course. The field is fully fenced, double-gated, and grassed, with overhead pole lighting for night practice and fun. Access to the bathroom facility is included.
Indoor Membership – This membership entitles you to access either or both of the training rooms. Both rooms are fully air-conditioned, have rubber flooring for safety and good footing, and offer large windows for great natural lighting. Access to a bathroom facility is included in each.
North Training Room- 1250 sf indoor training room (55′ x 23′).
South Training Room- 1700 sf indoor training room (45′ x 38″)
Combination Membership – Get access to the combination of your choice. See below for complete information and pricing.
Privileges of Membership
All members in good standing, holding a mimimum of a quarterly membership, are entitled to additional discounts from time to time for certain special events including agility and rally run-thrus, seminars, and facility rental for your dog's milestone events.
Membership Duration & Savings
The longer the duration of your membership, the less per month you will pay! Choose either a monthly, quarterly, semi annually, or yearly membership.
Memberships are always from the 1st of the month through the last day of the month. If you begin mid-month, you will either pay the full month's rate, or we can pro-rate the first month as long as you are paying for a full duration (monthly, quarterly, semi-annually, annually) that follows the partial month.
BEST BUY is a yearly membership. This will provide significant savings over the monthly rate. The longer your membership, the more you save.
Membership Fees
For first time members, there is an additional one-time fee of $25.00 for your Pooch Pass electronic access card (of which $10 is refundable if returned in excellent, clean condition). Replacement cards, should yours become lost (inform us immediately please), are the same fee.
Agility Field
1 month: $34
3 months: $29/month ($87.00 total). You save $15 (15%).
6 months: $22/month ($132 total). You save $72 ((32%)
12 months: $20/month ($240 total). You save $168 (41%)
North Training Room
1 month: $29
3 months: $25/month ($75 total). You save $12 ((14%)
6 months: $22/month ($132 total). You save $42 (24%)
12 months: $20/month ($240 total). You save $108 (31%)
South Training Room
1 month: $34
3 months: $29/month ($87.00 total). You save $15 (15%).
6 months: $22/month ($132 total). You save $72 ((32%)
12 months: $20/month ($240 total). You save $168 (41%)
*Savings are calculated from the combined full price of each specific area of the facility
BEST IN SHOW: North and the South Training Rooms 
1 month: $44 You Save $19* (30%)
3 months: $39/month ($117 total) You Save $72* (38%)
6 months: $33/month ($198 total) You Save $180* (47%)
12 months: $25/month ($300 total) You Save $456* (60%)
PREMIER SILVER: Agility Field and North Training Room
1 month: $44 You Save $19* (30%)
3 months: $39/month ($117 total) You Save $72* (38%)
6 months: $33/month ($198 total) You Save $180* (47%)
12 months: $25/month ($300 total) You Save $456* (60%)
PREMIER GOLD: Agility Field and South Training Room
1 month: $49 You Save $19 (28%) *
3 months: $44/month. $132 total. You Save $72 (35%)*
6 months: $37/month. $222 total You Save $186 (45%)*
12 months: $30/month. $360 You Save $456 (44%)*
GRAND CHAMPION: Both Training Rooms and the Agility Field) 
1 month: $59 You Save $38 (40%)*
3 months: $53/month. $159 total. You Save $132 (45%)*
6 months: $44. $264 total. You Save $318 (54%)*
12 months: $33. $396 total. You Save $768 (65%)*
*Savings are calculated from the combined full price of each specific area of the facility