Dog Training Video Library
New!
How Dogs Think & Learn Video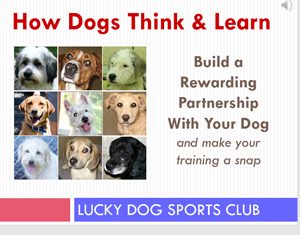 This online video webinar will increase your skills, knowledge, and the fun-factor so your training is a snap!
Build a Rewarding Partnership With Your Dog and make your training a snap!
Available as a video to watch online anytime
Good trainers understand how dogs think and the best ways to teach them. To become more effective and efficient training your dog, we are going to share important training and behavior tips and tricks. This hour-long video will make your training easier and more fun.
In this video you will be taught the skills and concepts needed to better understand your dog, build better attention and focus, and change annoying behavior problems. Our goal is to help make life with your dog easier and more enjoyable. This video provides you with the low-stress training tools to begin to do that in easy to understand explanations, photos and video lessons.
12 Reasons To Get This Video:
Understand what motivates your dog and then use this knowledge effectively
Begin to see the world through your dog's eyes to get a better understanding of why your dog acts the way he or she does;
Learn how to effectively and appropriately control consequences to help your dog understand and learn without stress
Find your dog's favorite reinforcers- what drives your dog
Discover a simple tool that will have your dog wanting to do more with you (and not just for you)
Learn when it's ineffective to punish your dog (and how it can make things worse)
Teach a simple skill that can build impulse control
Get insight into why your dog may not be listening to you
Understand the signs of fear or anxiety that can prevent learning from taking place
Learn how to use a simple tool that can increase your training effectiveness by up to 45%
Use the 3 training methods to build your dog's skills and learn how to avoid the pitfalls that slow learning;
Enjoy the included lessons to begin building your dog's skills!
Polite Greeting- Step 1
(using treats/toys)
Shaping a Behavior
The start of teaching close the cabinet or mailbox
Enrichment
The Muffin Tin Game
Polite Greeting – Step 2
(using a person)
First night of puppy class –
Getting To Know You
Last night of
Ideal Puppy Class
It's Your Choice –
The Game of Self-Control
Ping Pong Game
to Build Attention
Ideal Puppy class –
Fun with "come"