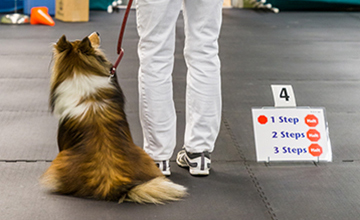 Duration
6 1 hr. Sessions
Category
Obedience / Manners
$ 145.00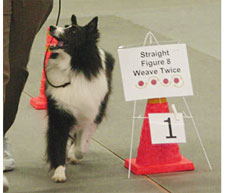 Rally-O (also know as Rally Obedience) emphasizes fun and excitement for the dog/handler team while providing an interactive approach to obedience. Rally is about the most fun you can have doing obedience exercises with your dog! For more Rally information, please click here.
This class will help build your skills as a handler and increase your dog's repertoire of behaviors while playing the sport of Rally together. Praise, encouragement, and continuous communication are encouraged in this fun sport. The focus in this Rally class is: teamwork, communication and enjoying working with your partner, your dog.
This class is composed of handlers with varying skill levels. To accommodate various skill levels, the class  features a nested course so that both novices and mover advanced dog and handler teams can choose signs to complete when it is their turn on the course.
For newbies to the sport, your dog should be responsive and know basic obedience to begin Rally. Understanding basic moves such as front, finish left and finish right, and heel are desirable.
If you are new to Rally, it is recommended that you and your dog take Focus Foundation (level 1 obedience) and Focus Ahead (level 2 obedience) classes, or their equivalent, prior to enrolling in this class.
Some students have practice with the novice movements or basic obedience and are ready to move on to new challenges. If you are more advanced you will have opportunities to build precision and understand new exercises to move forward in Rally.
To watch videos on all of the Rally signs from Novice through Master, click here.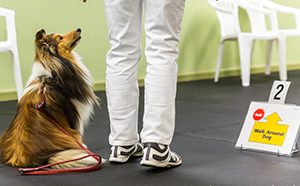 Rally is also a great sport for anyone doing Agility with their dog. It helps create a better working relationship and your dog learns to increase focus and to look to you for direction. Additionally, like agility, the courses and combinations of stations on the course are never the same, so it stays interesting for the dog and will help prepare the handler for learning and remembering different sequeences.
A rally course consists of different numbered stations in numeric sequence. A sign at each station gives instructions to the dog-handler team, and each team must execute the station's particular task within two-to-four feet of the sign.
The various signs instruct teams to go fast or slow, to halt (dog must sit at heel), to make turns and circles, to reverse direction, to do a sit-stay-recall, or to follow other exercises derived form of combination of Obedience, Agility and Freestyle.
Notes on the class:
This class is combined levels from is Rally Excellent through Novice.
Some Master level signs may be introduced depending on the level of experience of teams in the class.
This is a mixed level class with a different Rally course and varying skills eash week. In some places on the course, there will be two choices of signs, one for more novice students and one for more advanced. You can choose which sign you want to work on at those stations.
This class is held indoors. The classes are one hour a week for 6 sessions.
It is recommended that you bring a crate to relax in while you walk the course. You may also rent a crate. Please email in advance about this.
Drop-ins are available if there is room in class. The fee is $30.00 per session.
How does a mixed-skill class work?
In this class, by offering a choice of exercises from different levels at many stations, students of all levels will learn, improve and have fun!
Prerequisites for class:
For any Rally class, your dog must be good around other dogs and people.
To begin the Rally class, your dog should have responsive obedience skills and be able to pay attention in a classroom setting (with the presence of high-value food if needed). Your dog must have a good sit and down at your side, be able to walk calmly on a loose leash at your left side, and give you attention around other dogs and people. As mentioned above, some basic Rally skills include a front and finish.
If you are new to Rally, it is recommended that you and your dog complete Focus Foundation Obedience & Manners class (level 1), Focus Forward (level 2) class, or their equivalent, or receive permission from either the Training Director or the instructor.
To get more information about what Rally is click here
Want more Rally course experience? Register for a Rally Practice & Play Run Thru. Walk the course. Get instructor help if needed. Run the course(s). Have fun! Find out more.