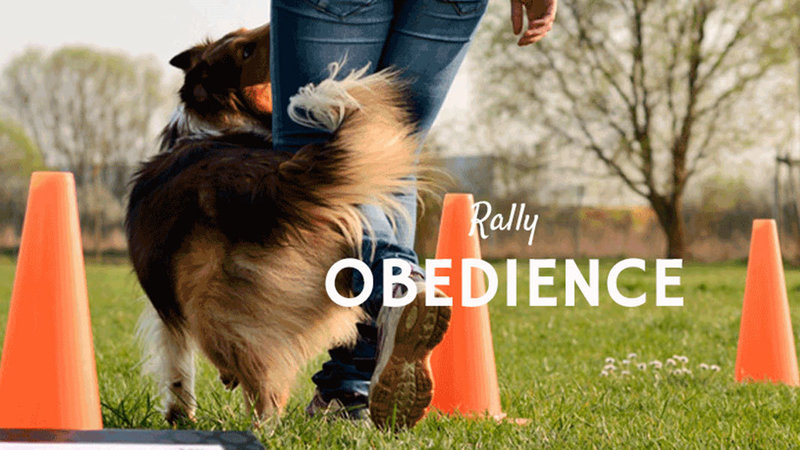 Duration
6 1 hr. Sessions
Category
Obedience / Manners
$ 145.00
Rally Novice Class with a Twist! 
Just like any team sport, AKC Rally® requires both teamwork and skill. In the Novice Rally class, handlers and their dogs navigate a course, side-by-side, as the handlers steer their dogs through a course of 10-15 different signs. Each of these signs provides instructions regarding the next skill that is to be performed. At this level,  all exercises are performed with the dog on a leash.
Who should participate? If you and your dog are working on fine-tuning basics such as loose leash walking at your side, sit, down, stand, and recall, this class is for you! We will be working in a large training room wearing masks and following social distancing.
Each week, our Rally Novice class will provide instruction in understanding and performing the various Rally Novice signs, navigation of a Rally course, and the opportunity to practice the multiple course components. After practice, each team will have the opportunity to run a full Rally Novice course and have their run videotaped.
You can get your Novice Rally title! We are excited to offer a Rally Novice class that includes participation in the AKC Rally Novice Virtual program. We will give you and your dog an opportunity to earn the AKC Rally Novice Title (RN). Attend the 6-week Rally class at Lucky Dog, work on specific sanctioned AKC courses, and get videotaped to send your run to AKC toward your Rally title (if desired)!!
During this time of necessary social distancing, the AKC started this pilot program to provide Rally participants a reason to continue training their dogs and to stay engaged with the sport of Rally. Performances are scored just like a regular Rally Trial and qualifying scores count toward you and your dog earning the AKC Rally Novice Title.
We will include the set-up of the pre-designed course, and opportunity for each dog and handler team to run the course while being videoed in order for students that wish to participate in the AKC Rally Novice Virtual program to be able to do so.
What is involved in getting titled? To complete participation in the AKC Rally Novice Virtual program the student must follow through by uploading their video to YouTube, setting the required YouTube viewing options, and submitting the video link with the entry form and entry fee to AKC. Once the required information is received, and the dog's records are verified for class eligibility, the video link will be assigned to a judge for review. The judge will score the team's performance and will provide a report to AKC. All qualifying scores will be recorded on the dog's AKC record and applied toward the Rally Novice title requirements. AKC will notify exhibitors of the results of their submission.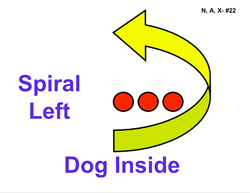 If you've ever thought about entering your dog in an AKC event but didn't know how don't worry! In this class, we will cover that information, including details about the AKC Rally Novice Virtual program entry process, learning how to fill out an event entry form, and event participation rules & requirements.
Please note: to be eligible to participate in the AKC Rally Novice Virtual program, or any AKC Performance Sport, the dog must be at least 6-months of age or older and be registered with the American Kennel Club or recorded through the AKC Purebred Alternative Listing Program (PAL) or Canine Partners Program. Information about how to register your dog in each of these AKC programs will be covered in this class as needed. A title certificate will not be issued until the dog is AKC registered/recorded.
Prerequisites for class:
For any Rally class, your dog must be good around other dogs and people.
Your dog should know how to walk on a loose leash at your left side and be able to pay attention and follow simple directions.
If you are new to Rally, it is recommended that you and your dog complete Focus Foundation Obedience & Manners class (level 1), Focus Forward (level 2) class, or their equivalent, or receive permission from either the Training Director or the instructor.
To get more information about what Rally is click here
Want more Rally course experience? Register for a Rally Practice & Play Run Thru. Walk the course. Get instructor help if needed. Run the course(s). Have fun! Find out more.