Teacher
Cheryl VanVoorhies
Duration
6 1 hr. Sessions
Category
Obedience / Manners
$ 145.00
Your dog will build on important, real-life obedience skills and manners.
C.L.A.S.S., or Canine Life And Social Skills, has 3 "college" levels; this is the Ph.D. for dogs, level 3
These classes are ideal for those interested in Canine Good Citizen testing as well as developing therapy dog skills to visit hospitals and nursing homes, in addition to building strong socially acceptable skills. Your dog should be welcome anywhere after passing the C.L.A.S.S. evaluation.
Looking for My Dog Has C.L.A.S.S., B.A. (Level 1)? Click here
Looking for My Dog Has C.L.A.S.S., M.A. (Level 2)? Click here
Prerequisites to be successful in this class:
Your dog must be non-reactive (friendly or indifferent) to other dogs and people;
Your dog should be at least 5 months of age or older;
You should have graduated from the M.A. level C.L.A.S.S. or your dog should have the skills taught in that class.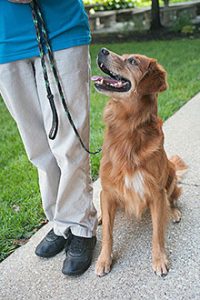 These are the skills started in the M.A. class: –
wait in the car before exiting;
walk past several dogs of different sizes, breeds and genders;
do a recall with the distraction of a treat;
sit, down, and stand on cue and wait for release;
wait before walking through a door while a person walks by;
walk on a loose leash and leave two food bowls 10 feet away;
stay in a sit or down for one minute with distractions five feet away;
allow the owner to handle various parts of their dog's body.
Click here to check out My Dog Has C.L.A.S.S. M.A. (Bachelor's Level 2)
In this 6-week class you will learn:
How to work at your dog's level to stay successful;
How to build practical, real-life skills in your dog
What is reinforcing for your dog and be able to use this knowledge to effect positive training results;
In the Ph.D. level, dogs will be building skills with more distractions and challenges. Here is the Real-Life Relevance of those skills:

Loose leash walking is helpful when you need to safely carry an object while walking your dog. Your dog will learn to pass distractions to come to you and sit politely while the leash is attached
Back Up can be a useful skill when you want your dog to move away from you or back up with you;
Stay is useful when you need your dog to remain in place amid distractions;
Coming when called and leaving distractions could save your dog's life if he gets loose;
Meet & Greet: When you take your dog to a veterinarian, groomer, or other similar place, it is important that your dog allows being handled;
Attention. When you have your dog's attention, you can help him focus and give him other guidance;
Table Manners. A dog who can calm down on cue around food is more manageable in the home and may be more welcome in other social settings;
Does Your Dog Really Know Sit? If he can sit under many challenging and distraction situations he is much more manageable.
Hand Target. A dog who has learned to target a person's hand is less likely to jump up on them or shy away from the hand.
In week 6 a mock evaluation may be done so you will understand what you need to work on for complete success at this level.
Click here to check out what skills are tested in the Ph.D. evaluation.
Send your dog to college for another degree! You will have more fun with your dog, be able to go on more outings and do more activities when he or she possesses obedience skills and manners that are needed in the real world. This is also important if you are training your dog to be a therapy dog to visit hospitals and nursing homes.
The My Dog Has C.L.A.S.S.- Ph.D. (Doctorate Level 3 for your dog)- Canine Life and Social Skills- is the way to achieve or improve important skills. Using the skills learned in this class in everyday situations, a dog can become a well-behaved member of your household and a welcome part of society.
Every level of the C.L.A.S.S. program (there are 3) has a formalized evaluation you can take to test your skills. The BA level test is similar to the AKC Canine Good Citizen (CGC) test. You will also have taken the next step toward the skills required to pass tests for therapy dog work
As humans we have the tendency to notice and react when our dog is dong something we don't like. In this class we will show you how to improve your relationship by rewarding your dog for doing things you do like. When the communication is two-way, the mutual trust is strong. We will use instructive training, telling our dog, wihout anger or force, what we would like him or her to do. Clear boundaries and rules will be set for our canine companions so they feel more secure knowing what's expected, and flourish in the learning environment.
The C.L.A.S.S. evaluations are governed by APDT (Association of Professional Dog Trainers) and is similar to the AKC Canine Good Citizen (CGC) test. It's an evaluation of real-life skills.
Here is a video that explains C.L.A.S.S. and the skills taught: click here to watch
Click here for a video showing all about C.L.A.S.S. and the evaluation for each level.
For those interested in passing the C.L.A.S.S. evaluation,Read the Student Handbook.  This handbook also contains great information about dog behavior and training.
C.L.A.S.S., or Canine Life and Social Skills, is an educational program to promote training focused on the use of positive reinforcement and to strengthen relationships between humans and their canine companions. C.L.A.S.S. is a three-level evaluation for dog owners to demonstrate the real-life skills of their dogs, as well as a knowledge assessment of the owners' understanding of basic dog handling and care.
Developed by the Association of Pet Dog Trainers (www.apdt.com) based on input from both dog owners and non-dog owners, shelter workers, and professional dog trainers, C.L.A.S.S. benefits pet owners, dogs, and everyone in the community!
The three levels of the program are named after human university degree programs: the B.A. (Bachelor's level), the M.A. (Master's level), and the Ph.D. (Doctorate level). The skills in each level vary in the level of difficulty and distractions.
For example, at the B.A. level, we allow the use of treats as rewards after the completion of an exercise, and some of the "real life" skills that are assessed are waiting at the door, drop it, and settle.
And in the Ph.D. level, owners must carry everyday objects such as a cardboard box or paper sack while walking their dogs on a loose leash, ask their dogs to back up, and have their dog demonstrate table manners during a simulated dinner session. Each level also allows for two "bonus rounds" that owners may elect to try or not with their dog.