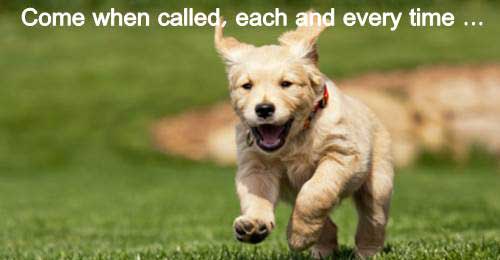 Age
4 months of age or older
Duration
6- 45 minute sessions
Category
Obedience / Manners
$ 145.00
Come Now, Stay Here! Building a Fast, Reliable Recall & Stay
Having your dog run to you when you call is one of the most satisfying aspects of your relationship with your dog. The focus of this class is building a reliable recall even in the face of distraction. You will learn to prompt, reinforce and save recalls in challenging situations. Your dog will also build a solid stay.
You've probably decided your dog's recall could use a little tune-up. Perhaps the puppy that wouldn't leave your heels has turned into an adolescent with selective hearing. Maybe your adult Fido simply "forgets" to come when she's occupied. Or recall is just one of those behaviors that never really took hold. In short, if you sometimes feel worried that your dog won't come when you really need him to, this class is for you. You can teach your dog to come every time you call, even from distractions. Join this class and start building this important skill.
Prerequisite: Your dog must be friendly to other dogs and people. This is for dogs 4 months of age and older.
In this 6-session class (held both inside and outside) you will learn:
The 5 rules that will help you to build a solid recall.
How to teach your dog to come even around distractions.
How and when to fade out the leash.
How to work at your dog's level to stay successful;
Be proactive as needed to keep your dog safe and comfortable.
What is reinforcing for your dog and be able to use this knowledge to effect positive training results;
How to apply class learning to problem solve approaches to real life situations;
How to teach your dog one of the most important skills they can have for their safety and and your enjoyment of your relationship with your best friend.
You will also build a reliable stay. Your dog will learn to stay in the position in which you place him or her. You will build duration, distance, and the ability to stay around distractions.